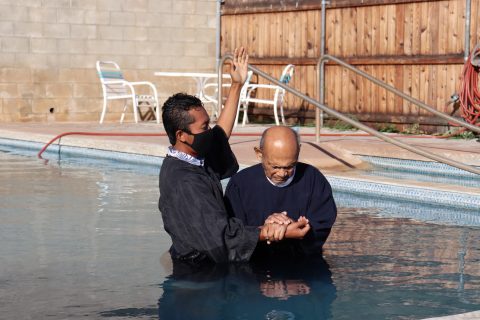 It was my first week of starting my pastoral ministry at the Waianae and Waipahu church district for the Seventh-day Adventist church in Hawaii, when I was informed of uncle Alfred's desire to get baptized. I believe it's every pastor's dream to have a baptism ceremony in the first week of ministry. With joy, I reached out to uncle Alfred right away and when he informed me that he will be going through another round of chemotherapy the following week for his cancer treatment, we scheduled a meeting on the next day, Sabbath.
So, on that Sabbath afternoon, with Elder Tony Ingersoll, we spent close to three hours getting to know uncle Alfred and studying the Bible with him. He shared with us his life story, the ups and downs, and how he first met the Lord and came into the church but left since the 70s. And now in 2020, amidst the COVID-19 pandemic and amidst his battle against cancer and all the uncertainties around the world and surrounding his life, he was most certain that God has called him to come back to Him and to the church. As he relates his life story, tears came down his eyes, out of a sorrowful heart of repentance. As we encouraged him from the Bible that Jesus is faithful in being our advocate and forgiving us of our sins, he agreed to say a prayer in acceptance of the salvation of God through Christ Jesus. Another round of tears came down his eyes as he was praying, but this time they were tears of joy in thanking God for a second chance. 
The next day on Sunday afternoon, August 9, 2020, at the Camp Waianae swimming pool, I baptized uncle Alfred while his family and church members witnessed with joy. It was a joyous occasion indeed. Then, he soon went through another round of his chemotherapy treatment. We continued to pray for him individually as well as in our weekly prayer meetings. 
And this morning, on September 11, 2020, I was informed by Perry, uncle Alfred's son, who is also our head deacon at the Waianae Seventh-day Adventist Church that uncle Alfred passed away at 12:01 AM. I was at a loss of words and I didn't know what to say to comfort the family. It's my first time losing a church member and it hits close to home. And this time around, It got me thinking that no pastor wants to lose a member in the first months of a new church district. But Perry right away said "Pastor, we are at peace. We know that we are going to see him again. He's no longer in pain, but now resting in Christ". To that I say 'Amen'. 
It got me thinking for the rest of the day on this great hope that we have in Jesus. He himself said in John 11:25, 26 "I am the resurrection and the life. The one who believes in me will live, even though they die; and whoever lives by believing in me will never die." Jesus also said in John 5:25 "Very truly I tell you, a time is coming and has now come when the dead will hear the voice of the Son of God and those who hear will live." 
Yes, because Jesus had paid the penalty of sin, and has justified those who believe in Him, His resurrection and defeat of death is the evidence that those who die with faith in Him will one day be resurrected when He comes back for the second time.
In 1 Thessalonians 4:13-18, Apostle Paul tells us "Brothers and sisters, we do not want you to be uninformed about those who sleep in death, so that you do not grieve like the rest of mankind, who have no hope. For we believe that Jesus died and rose again, and so we believe that God will bring with Jesus those who have fallen asleep in him. According to the Lord's word, we tell you that we who are still alive, who are left until the coming of the Lord, will certainly not precede those who have fallen asleep.  For the Lord himself will come down from heaven, with a loud command, with the voice of the archangel and with the trumpet call of God, and the dead in Christ will rise first. After that, we who are still alive and are left will be caught up together with them in the clouds to meet the Lord in the air. And so we will be with the Lord forever. Therefore encourage one another with these words." So, uncle Alfred is now asleep in Christ. But when Christ comes again, He will call with a loud command with the voice of an archangel and the trumpet call of God "Alfred, Wake Up", then, we will see uncle Alfred once again. What a blessed hope it is that we have in Christ Jesus for the forgiveness of our sins and for the assurance of eternal life in Him.